While visiting an event or attending virtual discussions, people look for advice on creating an awesome resume i.e. a resume that can be read by a resume parser with perfection.
Vinay Johar, CEO of RChilli, talks about a few common questions that people ask about creating perfect resumes.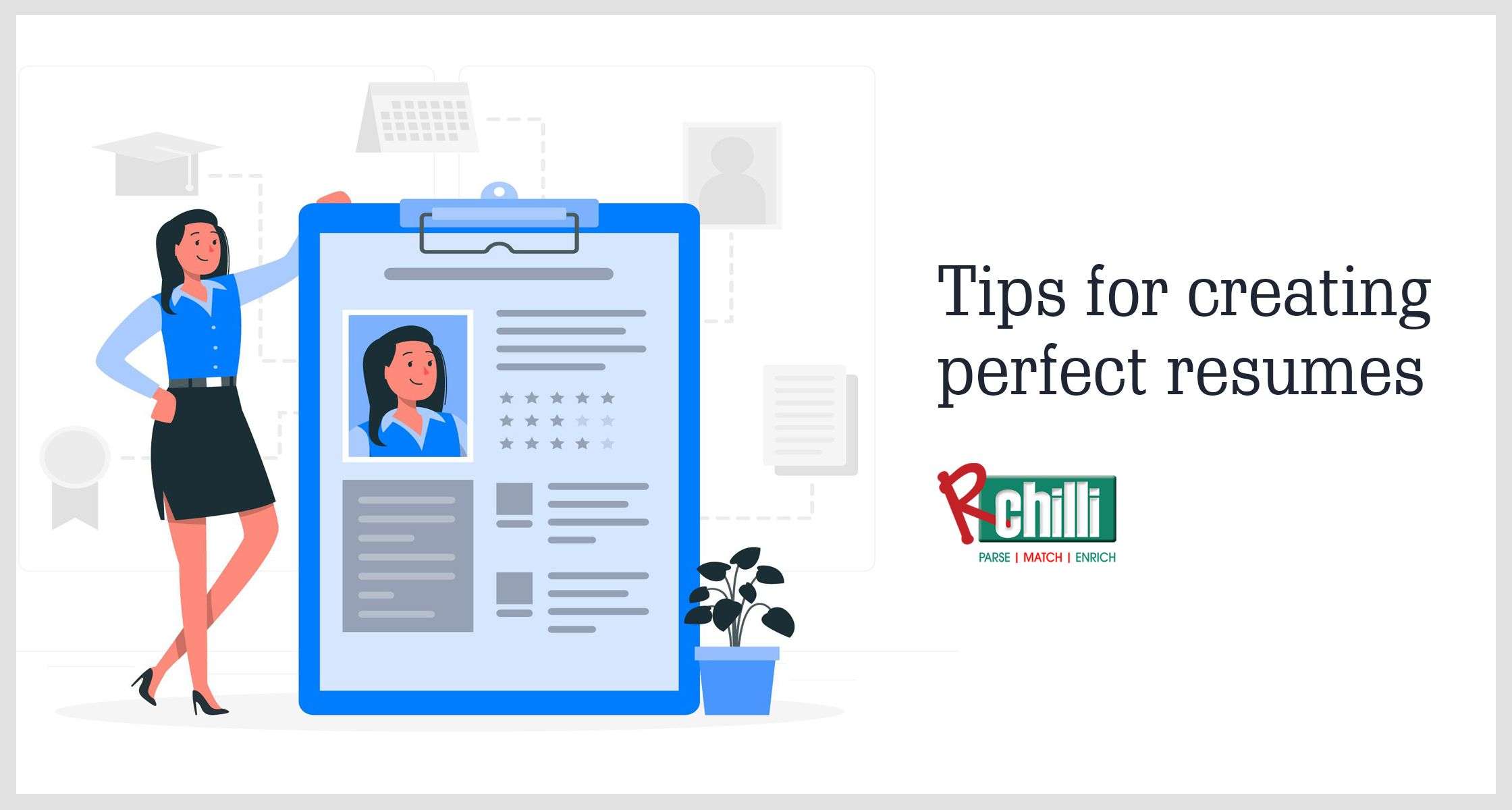 Q1: What do I need to understand about how your resume is parsed?
I recommend being honest when you prepare your resume. Instead of going with fancy layouts, keeping it simple is the success mantra. To make it colorful, add your face, certification logos, and website links showcasing your successful work. RChilli AI is advanced enough to categorize images and links.
Q2: Why are recruiters and HR managers keen to use a resume parser?
RChilli helps the HR Department to achieve what it is meant for. For example, the recruitment team should be closing more jobs rather than data entry or keep calling candidates who are not highly qualified. AI technology helps you to remove all these bottlenecks in any ATS or ERP like PeopleSoft, Taleo, SuccessFactors, Workday, etc.
Candidate experience goes up by 80%, and recruiter efficiency to sort, search for highly qualified candidates goes up by 82%.
And with this AI, they just need to call the top 10 candidates and close the job.
RChilli is on a mission to change the average 45 days job closing time to a few hours. I am glad that we are part of this ecosystem.
Q3: Can a resume parser parse resumes of different file formats such as MS Word, PDF, doc, docx? 
Any format is good. Technology has come to a level where file formats don't matter. You can submit in MS Word, Google Doc, PDF, ODT, HTML, TXT, or any other format. I have seen a few clients send resumes in lotus123 or WordStar. We are open to all these challenges.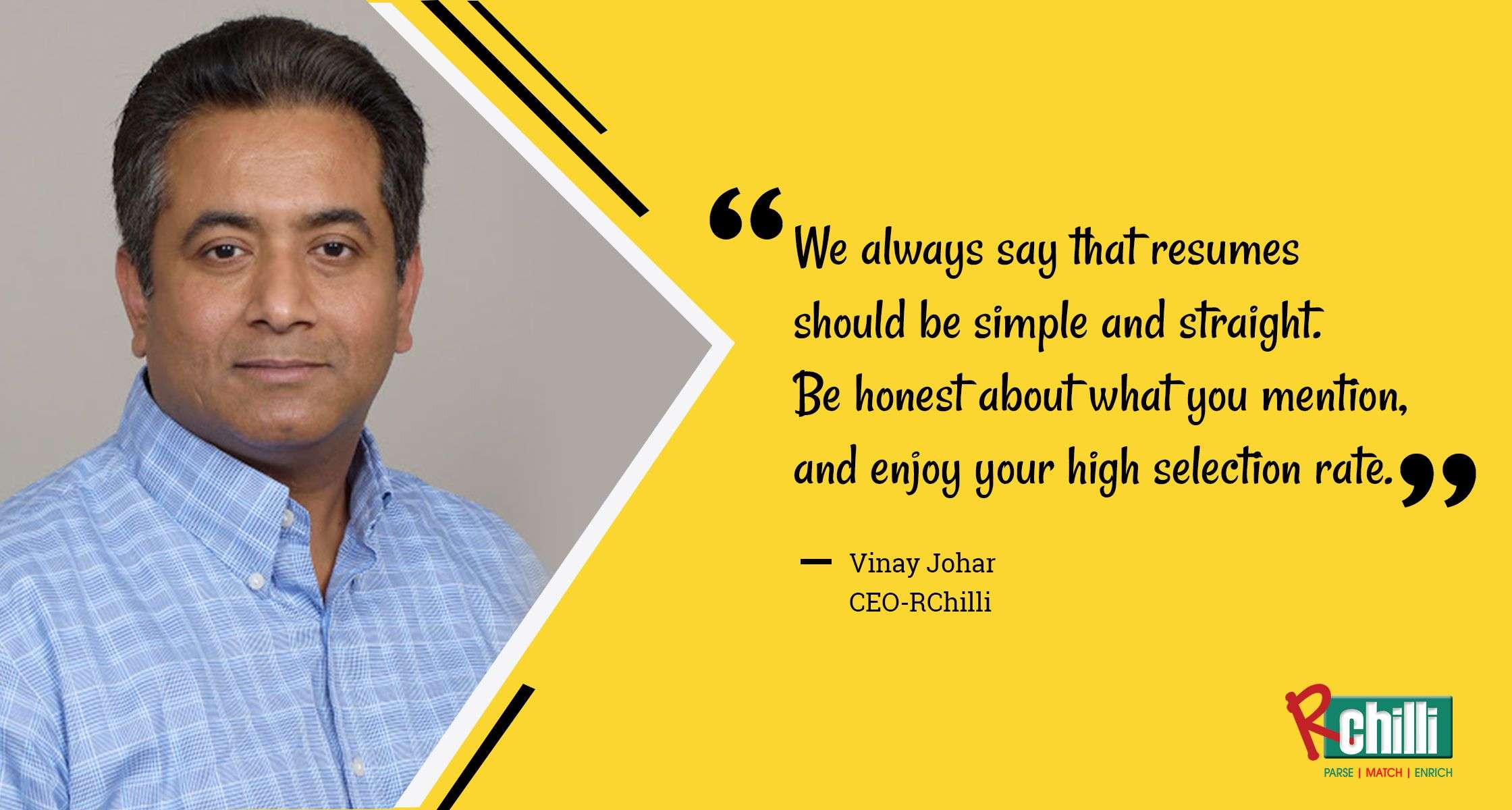 Q4: What are the common errors found in resume formatting or structure?
The most common error I see in a resume is the use of text boxes and repeated information.
Few examples are – Placing your name, contact info in a fancy way and placing them in the footer.
Textboxes are a big no for any resume. Textboxes create good-looking resumes, but they are creating a lot of confusion for AI. A lot of extra processing is required to handle such resumes, and in this process, you might lose some important part from your resume data extraction.
Q5: Can a resume parser handle bar charts, graphics, and other visual communications?
This is a great question. Charts, Graphics, and other visual communications are good for presentation, but they are not AI or resume parser friendly. AI loves data in tables, text, or any other way.
Q6: How about putting borders, horizontal lines, tables, and text boxes?
This doesn't matter with RChilli. We are currently using TensorFlow AI, which builds our models and quickly adjusts to a new format coming up.
Only TextBoxes are a big no. But tables, horizontal lines are good with no impact.
If you want to use Tables, we suggest using Docx as your file format instead of PDF.
Q7: How many columns should I use in my resume: one or two?
I agree with one column. Keeping it simple is the best approach. The single column is the perfect model.
Q8: Is it advisable to use different fancy fonts?
Yes, that's not a problem. If it's in text and docx, you are free to design your profile with desired fonts.
Q9: Can I use an online template for creating a resume?
Yes, you can use a template or resume writing services. Apart from following the standard, you can also use these tips.
https://help.rchilli.com/hc/en-us/articles/360011188234-What-are-the-limitations-of-RChilli-Resume-Parser-
You are good to use anything. RChilli AI, which is based on the TensorFlow model, works perfectly.
Q10: Where should I mention contact information?
You can mention your contact information either at the top or end of the resume. Just avoid mentioning them in the header/footer of the document.
Q11: How should I mention dates in the resume?
You are free to mention dates/months/years as per your country. The system identifies your country settings and reads dates as per DMY/MDY or any other format. But pro advice: Use the same format across your resume. Do not use a time period like 3 yrs, 5 years working, or references like from Fall 2019 to Summer 2020. Keep it simple and straight.
Q12: Is it ok to use headers and footers? 
We recommend avoiding headers & footers. AI can handle these, but we see that our considerable percentage of reported errors is due to headers/footers.
Q13: Can I click a pic of my resume and submit it?
Yes, you can do it. But this involves OCR, which converts your screenshot to text. In short, you are inviting more chances of loss of data/text. Technologically yes, you can, but not a recommended solution.
Q14: How should I name my resume file?
This question is more relevant for recruiters rather than Parser AI. The recommendation is:
Name – job title – location – years of experience
This helps the recruiters to organize profiles at their end.
For parser, you can send any file name.
Q15: How should I define job titles in a resume?
A parser is good for AI analysis. Good clear text is always preferred. One point which I love to share with professionals is about Job titles. I know candidates prefer to write innovative job titles e.g. "Enterprise Problem Solver", "Creating Happiness", or something similar.  These are good, but the parser doesn't understand them. We suggest, use standard Job titles in a resume, but you can always refer to your innovative message in the job description.
Q16: Can keyword stuffing negatively impact my resume?
Adding unwanted keywords or repeating keywords will create confusion. RChilli enriches all skills and job titles with taxonomies. If you have not written some skills or taxonomies, RChilli suggests them based on industry-standard data. Further, we normalize the data. Any repeated keywords will get deleted and normalized.
This might have an impact if clients are using Solr or Elasticsearch as a search interface. But with RChilli Semantic Search, this has no impact. Better keep your profile/resume simple.
Q17: One piece of advice that everyone should follow while creating resumes.
We always say that resumes should be simple and straight. Be honest about what you mention. With our enrichment marketplace, now we have many mechanisms to identify gaps, wrong information, misleading text, etc. in a fraction of seconds. Keep it simple and straight, and enjoy your high selection rate.
If you still have any queries, I will be glad to help.
Feel free to talk to Vinay Johar, CEO-RChilli.
Source: https://bit.ly/3lj6FDW